Self-Financing World Marshall Plan
When: Every first Sunday of the month 15:00 GMT to 17:00 GMT
CET: 16:00 to 18:00 (Geneva, Paris)
UK: 15:00 to 17:00
Brazil: 12:00 to 14:00
EDT: 10:00 to 12:00
Where: Virtual meeting on the Internet
Please contact us for the link to access the zoom meeting room.

All the documents gathered until now explaining the self-financing World Marshall Plan and the concept of a basic income for all can be downloaded from the following folder on Google Drive:
Folder on Self-Financing World Marshall Plan
https://drive.google.com/drive/folders/1JU1dsplDH2a5TP7F3iABBo6gX3xSQ1Uc?usp=sharing
A new document, Lobby Geneva 2006.doc, has been added. It describes the lobbying which was done for the World Marshall Plan at the UN in Geneva in 2006 by Lisinka Ulatowska.
You may also watch the video with Pieter Kooistra (30') at:

https://basisinkomen.nu/ubi/httpbasisinkomen-nlwereldbasisinkomen-uno-inkomen-25-jaar-oud-idee/

Elly Pradervand and her colleague Deborah have designed a logo to represent the project. It is reproduced below.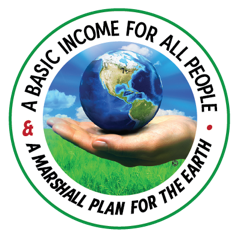 Monthly Meditation on Planetary Synthesis
As decided during the General Assembly, we will meet once a month for a group meditation and sharing on planetary synthesis and service activities.
The first meeting took place on Sunday, 7th June, at 2 PM CET, 12 PM (noon) GMT, 9 AM Brazil time and will be repeated every first Sunday of the month.
The meetings in 2021 will be on the following Sundays:
3 January
7 Februry
7 March
4 April
2 May
6 June
4 July
1 August
5 September
3 October
7 November
5 December
at the same time: 12:00 GMT / 14:00 CET / 9:00 Brazil time.
Where: Virtual meeting on the Internet
Please contact us for the link to access the zoom meeting room.
Recordings of past meditations are available in this google drive folder .

Here is a short summary of the meeting on 7th June.

Rudolf Schneider guided the meditation on planetary synthesis, adding the Golden Rule as a seed-thought. We then shared ideas about various service activities for the welfare of humanity and the planet. Here is a short overview, arranged according to the fields of service of the 10 seed-groups.

Susana Acle told us about a group meditation for the dissipation of glamour in which she participates with a group in Brazil and Bolivia. The meditation is available in Spanish and Portuguese (seed-group 2: trained observers).

Marjolijn Snippe told us about the initiative https://oneshared.world/, which proposes a "Pledge of Interdependence" which anyone can sign on their website (seed-group 5: political organizers).

Rudolf mentioned that we should promote the teaching of English for all children of the world, to allow everybody to communicate in a common language (seed-group 4: educators).

Jennifer Viloria mentioned an initiative she has started in the U.K., together with others, aimed at enabling people to invest their capital in a way that is beneficial for the poor and for the environment (seed-group 9: economists and financiers).

Nikita Dubrova talked about the possibility of using bitcoin mining equipment to generate heat for homes and to help finance the World Marshall plan designed by Pieter Kooistra (seed-groups 7 and 9: scientific servers, economists and financiers). He also stated that he thinks the 18th Sustainable Development Goal should address the issue of artificial intelligence.

Lisinka Ulatowska mentioned that the Commons Cluster is just starting a new phase and that they will be glad to have the participation of those who are interested. The Commons Cluster has a mailing list, on which you can request to be put by writing to Taede Veenstra (taedev at gmail.com) (seed-group 5: political organisers).
Another decision taken was to invite all IPS friends and co-workers to participate in these meditations on the first Sunday of the month. An invitation will be sent to our entire mailing list and the meetings will be announced on the IPS website.

The meetings will continue to be held in English, but if any participants finds it difficult to speak in English, Alice can help with translation from French, German, Portuguese or Spanish.